2020 global top ten simulation manufacturers rankings
2021-06-15
---
Recently, IC Insights released the top ten of the world's top ten simulation vendors in TI, Adi, Skyworks, Infineon, St, NXP, Maxim, ON SEMI, Microchip, and Renesas, respectively.

The sales of 10 simulated vendors totaled $ 35.4 billion, accounting for 62% of the total number of IC markets last year, the same share is the same as 2019.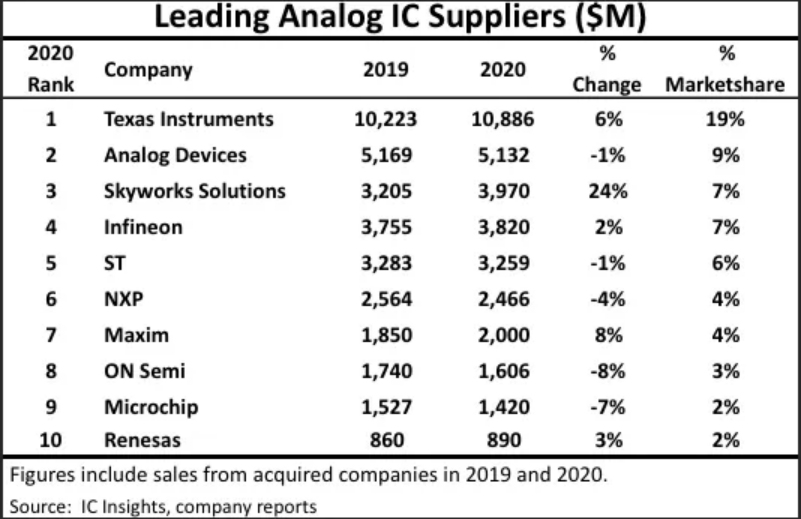 2020 global top ten simulation manufacturers
From the market share, TI has led to the top of the world's largest simulated chip manufacturer in the world with a $ 10.886 billion in analog sales and 19% of the market share. From the perspective of performance growth, five companies in TI, SKYWORKS, INFINEON, MAXIM, and RENESAS have grown in 2020 sales, and SkyWorks sales have grown most powerful, up to 24%, sales almost $ 4 billion.
Attachment: 2017-2019 Global Top Ten Simulator Rankings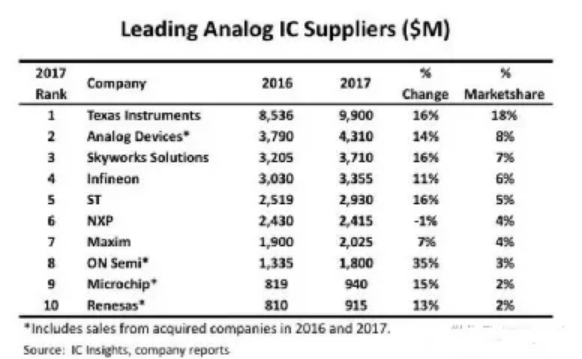 2017 global top ten simulation manufacturers list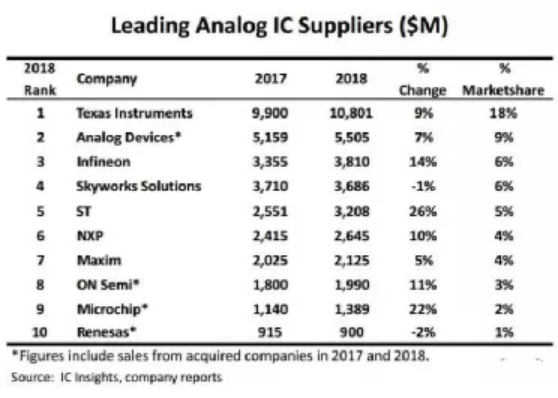 2018 global top ten simulation manufacturers list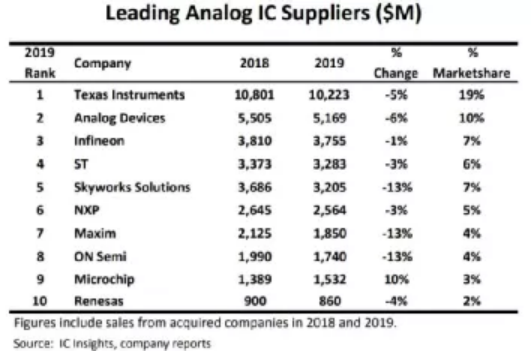 2019 global top ten simulation manufacturers list
1, Ti (Texas Instruments)
Texas Instruments is the only business in the list of people in the list. According to the data, in 2009, Texas Instruments became the world's first enterprise that could make simulation equipment on 300mm equipment, and started the second 300mm simulated wafer factory in 2015. Subsequently, Ti continues to transfer simulated manufacturing to 300 mm wafers. The use of IC from 150mm, 200mm Wafer manufactured to a larger 300mm wafer factory brings more profitable space to TI. In 2020, TI has reached half in the production of analog devices at 300 mm wafers. In addition to changes in production, 300 mm wafers bring more cost control, Texas Instruments, compared to 200 mm wafers, using 300 mm wafers to reduce the cost reduction cost reduction by 20%. The cost of unpacking components is reduced by 40%.
As the largest simulated chip supplier in the world, TI has a mature product line in the field of consumer electronics, industrial, communication, automobiles. In 2020, TI revenue was $ 14.461 billion, an increase of 0.54% year-on-year, net profit of 5.595 billion US dollars, a year-on-year increase of 11.52%.
Careful comparison 2017, 2018, the global top ten simulation manufacturers in 2019, despite the decline in sales in 2019, it fell by 5% year-on-year, but Ti is in the highest sales and city share. One.
In 2020, it was influenced by the market demand and other factors such as chip, as well as the factors such as the epidemic, TI said that the 8-inch crystal yield can be severely lack of, and the delivery schedule has taken about 30 weeks, and the individual chip is delivered for 50 weeks.
2, Yadeno Semiconductor (ADI)
ADI ranked second with a sales of $ 5.132 billion, and the sales of last year fell by 1%. But still with 9% of the market share of Skyworks with a sales increase of 24%. Like Ti, ADI has been famous in the fourth consecutive year, and the second, but whether it is in sales or a difference than TI.
ADI products have almost involved all types of electronic electrical equipment, with more than 125,000 customers in the world. From the simulation IC market, the sales volume of Adi in Industrial, Cloud Communications, and the vehicle areas, and consumer electronics in the industry, cloud communications, automotive areas are 53%, 21%, 14%, and 11%.
By receiving mergers, you can effectively expand your company's product line share, improve your own competitiveness, from the ADI's acquisition, there is no shortage of these examples, such as in 2017, Adi acquired Linear, adding cloud-calculated sales and other product layout; In 2020, the acquisition of Maxim's Semiconductors further consolidated the status of Adi in simulating semiconductors while expanding the layout of the power chip field, which brought great help to multiple product lines such as TWS.
In addition, as China's continuous expansion of the market size of the semiconductor industry, Adi increased investment in the Chinese market. In 2020, the Ado Semiconductor Technology (Shanghai) Co., Ltd. was upgraded to Yadeboro Semiconductor (China) Co., Ltd..
3, SkyWorks
In this year's world's top ten analog chip companies, you can clearly see the rapid growth of SkyWorks sales. In addition, from recent years, the list of leaderboards can also be seen that SkyWorks is changed, in 2017, Skyworks ranked third, the simulation IC sales increased by 16% year-on-year, 2018 sales fell by 1% year-on-year , By British Flying Ling, ranked fourth. But in 2019, it fell by 13% to the fifth place with $ 3.2 billion.
Skyworks is a wireless semiconductor company, designed and produce radio frequency and complete semiconductor system solutions applied to mobile communications. The customer mainly is mainly based on smartphones and other manufacturers of communications and computing devices. Among them, Apple, Samsung, Huawei have been Skyworks' big customers.
It is understood that in 2018, in 2019, China is the second largest region of Skyworks sales, with more than half of the revenue. With the development of 5G technology, smartphones ushered in updated iteration, SkyWorks continued to accelerate their new analog chip and chipset product portfolio to launch 5G smartphones, wireless infrastructure applications and wireless game headphones.
4, British Failure (Infineon)
Infineon, integrating semiconductor and NXP are called "European Traditional Triple". In 2019, the city of British Faling, NXP, and conventional semiconductor is 18%. Among them, the main sales field of Infineon is a car IC and power supply IC, accounting for 44% and 30%, respectively. From this year's data, the sum of the market share of three companies is 17%, of which Yingfine has not changed in market share, sales increased by 2% year-on-year, reaching $ 3970 million.
In 2015, the English-Flying Lingtian's eye position is positioned. One of the reasons why the ranking is to complete the revenue merger of the United States IR (International Rectifier) company. After the completion of the acquisition, the product portfolio of Yingfine has become more rich, the business map is also expanded, many SMEs in the United States and Asia will become the company's customers.
5, explanatory semiconductor (ST)
In 2020, the total sales of STMicot Semiconductors were $ 3259 billion, compared with 1% in 2019, and the 38.20 in Bingfailon has been ranked fifth. From a few years of list, the sales of self-contained semiconductors in the past two years are decline, of which 3% fell in 2019. However, in the 2018 list, the sales of British Failock has increased significantly, with a year-on-year increase in the year's leaderboard, which is the largest growth.
STMicroe is an IDM, with its own wafer, a test plant, and a cooperative external workshop mill, a key layout motor drive chip, an automated (smart power switch) and the power management class. This year, the impact of the refinement is, the chip of semiconductor has repeatedly adjusted the price many times. On January 1 this year, the first time, the semiconductor announced the price increase, and improved all the product line prices. On June 1, the STMicroe has once again announced its price increase.
STMicroelectronics have said that they will continue to maintain existing products and series supplies, and no existing products and series will not be suspended.
6, NXP (NXP)
NXP ranks sixth with a sales of $ 2.466 billion and 4% market share. Compared to 2019, sales fell 4% year-on-year. The main field of major growth is the automotive industry, and its analog chip is mainly used in laser radar, in-vehicle network and 5G network communication. From the recent years of performance, NXP's sales performance is flat, no big rising but decline is not obvious, the sales amount is in 2019, reaching $ 2645 million.
In 2015, NXP acquired Freescale and began to enter the impact of the simulated chip market, thereby reducing production costs and improving market share. In 2019, NXP acquired the Semiconductor MARVELL's communication chip business and enriched product portfolios. With the arrival of automotive electronic blue sea, NXP will focus on car related products. According to the financial report data, in 2019, the auto-related chip business contributed 47% of the company's revenue, and the overall market share is 5%, ranked sixth in the world's top ten simulation vendors.
NXP continues to force the automobile electronics industry. According to foreign media reports, NXP will use TSM's 16nm FinFET technology to produce the S32G2 vehicle network processor and S32R294 radar processor for Zhip semiconductor. It is important to promote this year's performance increase and product iteration upgrade.
7, Meixin (Maxim)
US Sales in 2020 sales of $ 2 billion, more than $ 1.85 billion in 2019, a year-on-year increase of SkyWorks, and the largest increase in simulation vendors, ranking seventh. Market share is 4% like NXP. It is worth noting that the US letter has no change in market share in 2017 to 2020, and it has been maintained at 4%. When sales is the highest, it is in 2018, reaching $ 222.5 million. .
It is understood that the sales growth of USs is mainly from acquisitions, including the acquisition of Dallas Semiconductors, Volterra, and some product lines of Vitesse and Zilog. In 2020, ADIs ranked second in the top ten simulation vendors in the world were acquired with about 20 billion US dollars.
8, ON SEMI (Anshen Mei)
The eighth place in Anson is ranked eighth, with sales of Sales of $ 1606 million in 2020, a declined by 8% compared to 2019, which is the most obvious enterprise in five companies in the list in the list. Prior to 2019, Anshan Mei achieved growth of two digits growth for three consecutive years, but sales in 2019 fell by 13%, with only $ 17.40, is the least year of 2017.
The Ansian's products include CMOS chips, camera sensation, radar technology, IGBT, etc., mainly for automotive, industrial, communication, consumer electronics and computers, etc., including one-third of its overall business, and other industrial fields Accounted for a quarter. In addition, ON SEMI three major product: Power Solutions (PSG), Analog Program (ASG) and Image Sensor Ministry (ISG), PSG accounts for the half-waters of the company's output value, although the ISG is small, but the growth rate is very fast. Benefits from the rapid growth in automotive electronics and industrial sectors, Anshen American semiconductor is among the top ten simulation vendors in the world and maintains its 3% market share.
9, Microchip (micro-core)
Rank Ninth Microchip sales of $ 142 million in 2020, compared to $ 1527 million in 2017, revenue fell by 7%, second only to Anson, 2%. In 2019, Microchip is the only sale in the ranking list is analog IC enterprises that are growing, an increase of 10% compared to 2018, reaching 1532 million US dollars. Microchip acquired MicroSemi in 2018, which may become the driving force of Microchip's annual revenue in 2019.
Microchip is a supplier of intelligent, interconnected and secure embedded control solutions, with product solutions for industrial, cars, consumption, aerospace and defense, communications, and computational markets. Microchip has also released a price increase in Marrochip by MICROCHIP.
10, Renesas (Reissa)
Rissa ranked tenth of $ 890 million in the top ten simulation manufacturers in 2020. Compared with last year, its sales increased by 3%, and the city share is 2%.
In the first half of this year, it is a majority of Rissa, which is the third largest car chip plant in the world. It is susceptible to "hot search" because of factory fire. For example, its 12-inch chip plant has temporarily suspended production, and the President of Renesa. CEO Chai Tian Yingli has been revealed that about two-thirds of the 300 mm wafer production line, about two-thirds of the products are automotive chips. There is no doubt that several factory fires have a significant impact on Risa's factory production, which not only exacerbates the situation of the chip shortage, but may also affect the revenue of Renesas.
summary
Comparison 2017, 2018, 2019, 2020, these four-year-old top ten simulated manufacturers, TI, Adi, Skyworks, Infineon, ST, NXP, Maxim, ON SEMI, Microchip and Renesas Basic Ten before the ranking list. In addition to the technical upgrade, market demand changes, manufacturers continue to expand their industrial layout in the way they collect mergers.
Under the short-selling of the chip, the basic chain related enterprises in the chip industry chain, equipment manufacturers and other industrial chain related enterprises have basically ushered in performance, such as TI revenue revenue reached 4.289 billion US dollars, of which simulation business The revenue was $ 328 billion, an increase of 33% year-on-year; NXP revenue reached US $ 257 million, a year-on-year increase of 27%, of which car business revenue was $ 1229 million, a year-on-year increase of 24% year-on-year. In the new round of market help, simulate IC vendors or will usher in new development wave.
---