In 2021, 5G modules will enter the thousand-yuan era, boosting the industry's hi
2021-04-16
---
It has to be said that the rhythm of 5G is indeed very strong. In June 2019, the three major operators, plus broadcasting and television, obtained a 5G license, officially kicking off the 5G prelude.
In 2020, the new crown epidemic is raging, but instead of stagnating, our base station construction has accelerated. At the end of last year, my country had built a total of 718,000 5G base stations. At the end of 2019, this number was only 130,000. It is estimated that 1 million 5G base stations will be built in 2021. In the future, the scale of 5G base station construction will increase.
In 2021, from base stations, chips to modules and then to industry applications, in this interlocking industry chain, the rapid growth of 5G modules should begin this year. We see that all chip manufacturers have entered the market, prices have dropped, and the industry Increased pulling power.
Many chips go hand in hand, and the 5G ecosystem continues to prosper
Qualcomm is the first manufacturer to introduce 5G baseband chips to the module market. In 2019, domestic IoT module manufacturers basically use Qualcomm 5G chips for module development. Subsequently, at the end of 2019, HiSilicon's 5G packages began to be sold, and Sichuan Ailian and other manufacturers became the first batch of cooperative enterprises. Unigroup Zhanrui has also increased the promotion of 5G modules in 2020. Many module manufacturers such as Quectel, Fibocom, SIMCom, etc. have released modules based on Unigroup Zhanrui's 5G baseband chip Ivy V510.
Since 2021, MediaTek has begun to promote the application of 5G baseband chips in 5G modules. According to the author's understanding, in 2020, a few module manufacturers have adopted MediaTek's 5G chips, such as Mobile Ke. However, in early 2021, many mainstream module manufacturers such as Quectel and Fibocom have launched 5G modules based on MediaTek chips. product.
Quectel Industry Cooperation Director Zhang Yu said that Quectel, as the world's leading provider of IoT solutions, needs to provide diversified choices for global customers. Quectel's 5G module, which fully covers mainstream 5G chip platforms such as Qualcomm, MediaTek, and Unigroup Zhanrui, provides LGA and M.2 diversified module packages, and has passed a large number of laboratory and live network tests to effectively guarantee the built-in Quectel module 5G terminals are connected stably and reliably under 5G networks in the mobile n41/n79 frequency band, China Telecom/Unicom n78 frequency band, and radio and television n28 frequency band.
Not only in China, but with close cooperation with chip, operator, and base station manufacturers around the world, Quectel has taken the lead in commercializing 5G in overseas regions such as Europe, North America, the Middle East, and Australia. It has also supported a large number of live video, FWA, industrial gateways, Terminals such as AR/VR realize 5G commercial use.
Tian Tao, the marketing director of Fibocom's 5G product, said in an interview with e-enthusiasts.com that Huawei's HiSilicon chip is still in a state of out of supply, which brings great market opportunities to MediaTek. MediaTek has a solid foundation in the Netcom market. At present, in addition to Qualcomm, 5G modules using MTK also have great opportunities in some specific markets, such as laptops and FWA.
Fibocom has deployed all 5G chip platforms in an all-round way, including Qualcomm, MediaTek, and Unigroup Zhanrui. Fibocom's FG150 and FM150 5G modules are based on Qualcomm's SDX55 platform; Fibocom's newly released FM160, FG160 5G NR Sub-6GHz modules, and FM160W, FG160W 5G millimeter wave modules are all based on Qualcomm's SDX65 and SDX62 platforms. 3GPP R16 standard. Fibocom FG360 5G module is based on MTK T750, Fibocom FG650 and FG650 5G modules are based on Ziguang Zhanrui V510 chip platform.
In terms of global layout, Fibocom mainly promotes overseas markets with module products using Qualcomm and MediaTek platforms, and mainly promotes domestic market with module products using Ziguang Zhanrui platform. At present, domestic overseas manufacturers also mainly adopt 5G modules based on Qualcomm and MediaTek platforms; among them, 5G modules based on MediaTek platforms are more focused on FWA Netcom, laptops, and high-definition video live broadcast markets.
At present, Qualcomm, MediaTek, and Unigroup Zhanrui are already in place, and these three 5G baseband chips will undoubtedly become mainstream suppliers in the 5G module market.
It seems that NB-IoT and Cat.1 chips have many new chip players, such as Shift Core, Xinyi, Zhilianan, etc. The 5G ecology should also encourage more players to enter. According to the author's understanding, despite the development of 5G chips The difficulty is high, there are still a few domestic chip companies that are entering this field, and there is no product release yet.
5G module prices drop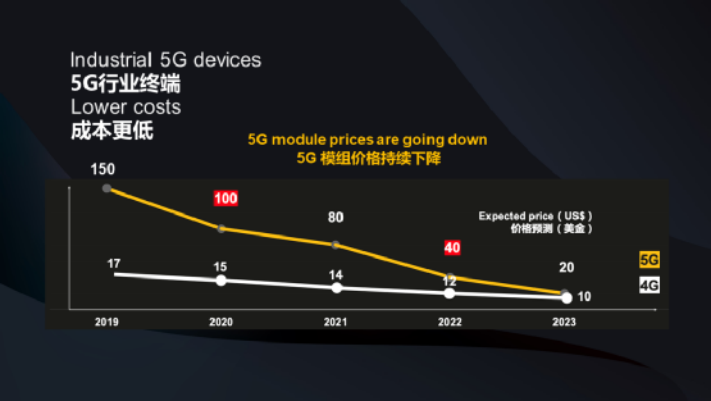 The above picture is the data mentioned by Huawei Vice Chairman Hu Houkun in a public speech at the end of 2020. It shows the expectation of a decline in the price of 5G modules. In 2020, 5G modules will be at $100, and in 2021, it will come to a price of $80. , It will reach 40 dollars in 2022.
However, it is understood that there is actually a certain gap between the price of 5G modules in 2020 and this forecast, and it has not reached below 1,000 yuan, and the price is about 1,500 yuan and continues to drop. Tian Tao believes that from the perspective of the 5G commercial process, 5G modules using imported chips will move closer to the 1,000 yuan level in 20201, and the use of domestic platforms will drop below 1,000 yuan.
Overall, the expectation of a decline in the price of 5G modules is advancing. Once 5G modules reach the level of less than 1,000 yuan in 2021, it will promote the landing of 5G applications to a greater extent.
Stronger development momentum
In 2020, the overall shipment volume of 5G modules will continue to grow, covering a wide range of industries. The popularization and education of 5G users has been well conducted, laying a good foundation for the popularization of 5G applications.
Quectel has united more than 1,000 5G industry customers and partners to jointly enable the Internet of Everything in the fields of 4K/8K high-definition video transmission, power, industrial gateways, smart TVs, drones, MR glasses, and CPE.
For the application of 5G in the industrial Internet, Quectel Zhang Yu believes that the large bandwidth, low latency, large connection, and high reliability of 5G are naturally compatible with the industrial Internet. At the same time, Quectel has 5G high-precision timing and 5G slice Actively explore in other fields, and implement applications in 5G power, industrial AGV collaboration and other scenarios. In addition, Quectel actively participates in the 5G industry standards initiated by the Institute of Information and Communications Technology of the Ministry of Industry and Information Technology, such as 5G general modules, 5G machine vision, module classification and classification and other topics, in-depth exchanges, and promote the rapid scale development of 5G industry applications through standardization.
Zhang Yu believes that the first batch of 5G applications are mainly focused on applications that require large bandwidth such as video, gateways, and data aggregation. As the 3GPP R16 standard freezes and the industry matures, in early February this year, China Mobile also took the lead in releasing 5G series modules that comply with the 3GPP R16 standard. It is believed that from the second half of this year, some applications that require high reliability and low latency will Started one after another, such as industrial Internet, industry private network and other scenarios. Quectel also continues to invest in 3GPP R17, such as redcap, 5G positioning and other key technologies. 5G is becoming the "new infrastructure" of the Internet of Things. Quectel will be committed to escorting the Internet of Everything for a long time.
Tian Tao said that Fibocom's 5G series modules have been applied to 1000+ partners, 20+ vertical industries, and 50+ product forms. The most typical applications are: 5G CPE, industrial gateway, DTU, security monitoring, high-definition video live terminal and so on.
There are many scenarios in the Industrial Internet, but the wiring is more troublesome, the bandwidth and delay of data transmission are also required, and the equipment is required to have higher stability and reliability. The application of 5G technology is optimized for these pain points and brings significant effects. At present, AGV cars with built-in Fibocom 5G modules are used in warehouses and logistics warehouses, and 5G wireless communication is adopted. AGVs have better network delay and precise operation control during the movement.
5G modules are basically not out of stock
The shortage of stocks and price increases in the entire semiconductor industry this year are very prominent. Will there be problems in the supply of 5G modules?
Tian Tao believes that the shortage of chips will have some impact on 5G applications. In addition to the delayed delivery period of modules, other chips of major equipment manufacturers also have supply chain risks, which may lead to failure to meet market expectations. Due to the current shortage of components on the market, 5G modules do not rule out the possibility of price increases. Fibocom has already estimated this risk a year ago, and has actively reached strategic cooperation with upstream suppliers in the early stage, and there is no impact of 5G shortage at present.
Quectel Zhang Yu also believes that 5G is still in its infancy, and there is currently no shortage of 5G module supply. With the universalization of 5G applications and scale-driven cost optimization, it is believed that the 5G industry chain will enter a more benign development track this year.
From the perspective of the global semiconductor industry, the shortage may continue for a while, and Quectel and its partners are also working together to actively respond. As a leading company in the industry, Quectel has established long-term strategic cooperation with core component suppliers to ensure priority supply of components and provide better service support; on the other hand, the company actively studies market demand and supply trends. While making necessary and sufficient inventory for some components, we also place orders with suppliers in advance according to demand forecasts to ensure the supply of modules. Out of stock is temporary, and cooperation is long-term. Quectel always adheres to the customer-oriented attitude and does its best to serve every customer. We hope that every customer and partner can pass this period smoothly.
From this point of view, there is no major supply problem for 5G modules, and module manufacturers have also evaluated in advance to ensure the stability of supply. This is very important for 5G modules that are still falling in price to promote the popularization of applications.
summary
In 2021, 5G modules will enter a new stage, and the landmark action is that the price will enter 1,000 yuan, which will accelerate the popularity. On the other hand, there are more landings of industry applications and the promotion of operator bidding, which will drive the rapid growth of 5G module shipments.
---